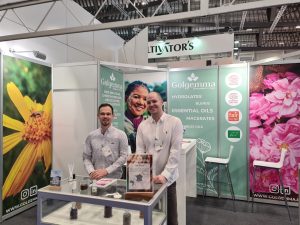 We will be present on our booth 457 / hall 3C, from 14 to 17 February 2023, at the Biofach-Vivaness in Nuremberg.
Visit us to discover our products and learn more about our following natural extracts:
Mainly harvested at altitudes of more than 800 meters in grasslands, Arnica montana is an herbaceous plant. Golgemma works with local cooperatives, national institutions and partner farmers in France to produce this natural extract.
Arnica oily macerate is used in cosmetics products such as creams, oils, gels and balms.
Ylang ylang is a fragrant flower native to the Philippines and comes from a tropical tree. To obtain the "complete oil" we use a continuous distillation process.
To make this essential oil of Ylang-ylang, Golgemma, producer of certified aromatics, cultivates ylang-ylang trees in a certified organic farm in Madagascar.
The essential oil of ylang is used in products like firming milks and gels, revitalizing floral creams, shampoos and haircare, bath gels and exotic body mists. Find this natural extract certified organic and FFL in products used for combination skin and tired skin, problem skin and hair treatments and nail care. This oil can also be used in fragrance bases for cosmetics and it blends easily with other emulsions and oils.
Golgemma's complete essential oil of ylang, FFL and organic certified is mainly composed of: Beta caryophyllene (5.00 to 17.00%), Geranyl Acetate (1.00 to 12.00%), Germacrene D (13.00 to 24.00%), Benzyl Benzoate (<= 12.00%), Linalool (2.00 to 16.00%), Trans trans alpha farnesene (2.00 to 16.00%).
Damask rose is very well known in perfumery and cosmetics. In particular, for the sweetness and sensual qualities it brings to a composition.
To make this preserved hydrolat based on responsible sourcing and traceability, we hand-pick the Damask rose flowers in our fields in Bulgaria and Turkey. The flowers are then extracted or distilled in less than 24 hours after harvesting in our production units located near the fields. Thanks to this process, Golgemma guarantees a high-quality extract.
Rose extracts are very popular and used in cosmetics. They are found in products used for dry skin, damaged skin, sensitive skin and mature skin. They are used in toners and cleansing waters.
To find out more about our natural extracts you can check our catalogue!